As a privately owned and operated company servicing Buffalo, NY, Quest Services has been providing commercial janitorial services for the past 20 years. Our dedicated management team has over 50 years of combined experience in the industry, and we pride ourselves on being a reliable, thorough and professional company. We provide a sparkling and thorough clean that will be sure to please even the most discerning customer.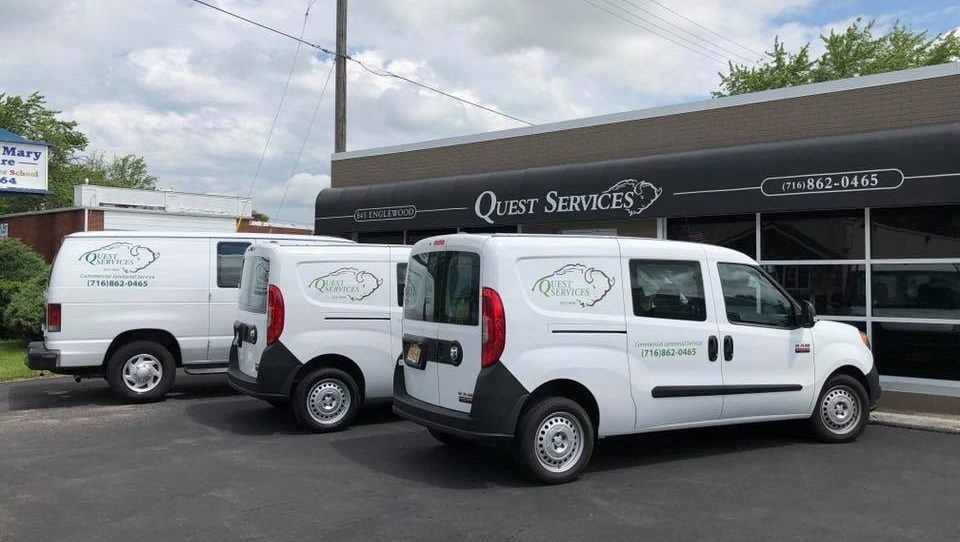 Reliable Cleaners from Quest Services
At Quest Services, we hold ourselves to the highest standards possible when it comes to the employees we hire, because that is how we produce a reliable and trustworthy service for our customers. Our staff is not offered a position with Quest Services until after a successful background check is done. Once we offer a position, our staff is fully trained and easily recognizable by its Quest Services uniform, this way you know exactly who our cleaners are, and where they are from. All of our team members are under contract with Quest Services, allowing us to provide another level of reliability and security to our customers.
Carpet & Window Cleaning in Buffalo, NY
With most of the services we offer, carpet / floor & window cleaning services in WNY are typically including. Our experienced team can strip, buff & wax floors, deep clean carpets and we even offer floor restoration services. We also offer full scale window cleaning in Buffalo, NY and the surrounding areas.
To get started with Quest Services, simply fill out our contact form or give us a call at 716-862-0465 so we can provide you with a free estimate. We look forward to working with you!