Family owned and operated, Quest Services has been providing commercial cleaning and janitorial services in Buffalo, NY for the past 20 years. Aside from Buffalo and the surrounding areas.The cleaning & janitorial services we off are customized to our clients needs and available daily, weekly or bi-weekly. We also offer project-based services for those who need additional assistance aside from their scheduled services. We service all industries since tasks can be customized, here are some examples of the industries we have experience serving:
Professional & Reliable Commercial Cleaning & Janitorial Services in WNY
At Quest Services, we take pride in offering you the most professional and experienced staff available. We also take precautions when choosing our staff, only hiring after a successful background check is completed. They receive full training to provide you with the best services possible, wear recognizable uniforms at all time, and all employees with us are under contract. Our customer service is superior with rapid response and our entire staff has impeccable attention to detail. The cleaning solutions used by Quest Services are mostly eco-friendly, non-hazardous, Green Seal Certified products. If you need eco-friendly products only, we can customize a cleaning solution for you.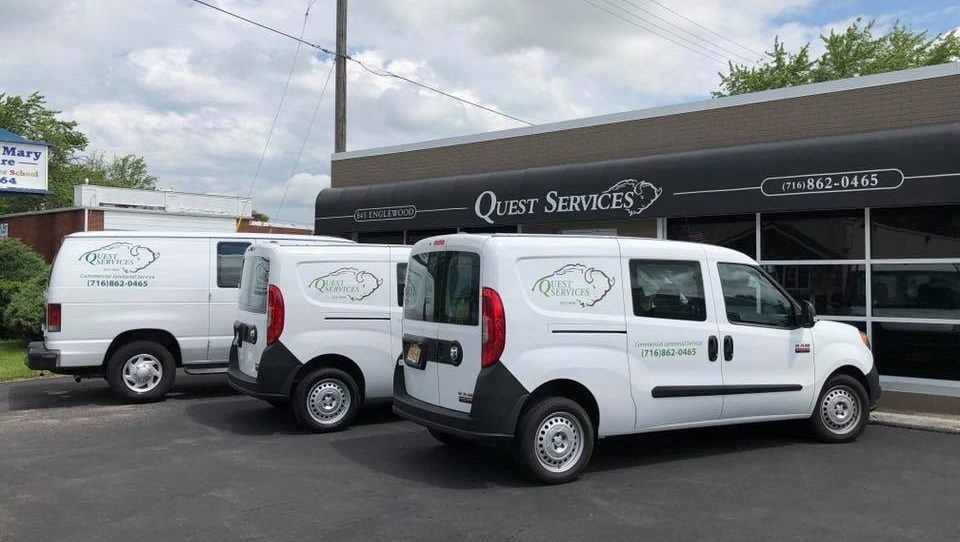 Affordable Commercial Cleaning in Buffalo, NY for All Industries
Our qualified, reliable and friendly personnel have over 35 years of experience in serving a variety of industries. When performing tasks for the GSA, there are certain requirements that need to be met. Some industries are very specific, with health code / inspection requirements to meet, etc., similar tp plants and manufacturing facilities. Apartments and multi-tenant facilities require routine janitorial services to keep the building safe, and the tenants happy.
For affordable commercial cleaning & janitorial services in Buffalo, and across WNY, contact Quest Services for a free estimate!